OMNI CCU Cares About Your Health and Well-Being

OMNI Community Credit Union's top priority is the health and well-being of our members, employees, and the communities we serve. Due to Governor Whitmer's announcement on November 15, 2020, our lobbies are currently open Monday through Friday following the State of Michigan order, but we highly recommend members utilize our drive-thru service at all of our branch locations for routine transactions. Drive-thru service is available Monday through Friday and Saturday at select branch locations.
Face coverings are required upon entering our lobbies. For your convenience, masks are available at each of our branches for use. If you are unable to wear a covering into the branch, we ask that you please use the options below.
Multiple Ways We Can Serve You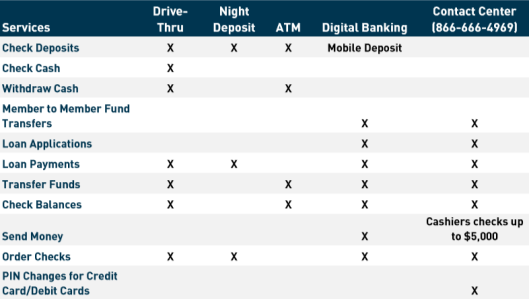 We know times may be tough and uncertain – we are here for you. If you are experiencing a financial hardship, here are some options to help:
Temporary Payment Arrangements – Call 269-441-1400.
GreenPath Financial Wellness - Counselors are available Monday through Thursday 8am - 10pm, Friday 8am - 7pm and Saturday 9am - 1pm. To use this service, call 1-877-337-3399 or visit them on the web at www.greenpathref.com.
Temporary Payment Arrangements – Call 866-636-1053 or email loss_mitigation@memberfirstmortgage.com
Temporary Payment Arrangements – Call 269-441-1400 extension 1429.
Rest assured that your money is safe and will always be accessible to you. Your deposits are insured through the National Credit Union Administration (NCUA); this means you can keep your money here with full confidence that it will always be here for you when you need it.
As an OMNI member, you have 24/7 tools to access your account easily online or by phone through Digital Banking, ATMs, and iTalk, and our team is here to help you explore these options. We also can be contacted at our Contact Center at 269-441-1400 or toll-free at 866-666-4969.
We will continue to monitor the coronavirus (COVID-19) situation and institute additional measures as appropriate to support our members, employees, and the communities we serve. For the most up-to-date information, please continue to check our website, as well as our social media platforms Facebook, Instagram, or Twitter
Thank you for being a valued OMNI member.